I am extremely privileged and absolutely delighted at the prospect of touring The UK in October with 3 incredibly talented and dynamic speakers. It's going to be all go and I can't say I'm concerned because it doesn't quite seem like work. We are headed up by Greg S. Reid the Co-author of "Think and Grow Rich: Three Feet From Gold" who is flying in from The States, joining us will be Jeff Lestz, The CEO of Genistar and Bryce Redford my fellow countryman from Perth in Scotland. The Uk Tour starts In Glasgow on October 1st then moves to Belfast, Newcastle, Liverpool, Manchester, Birmingham and London. Whew. All in the space of 8 energetic days.
"Turn Your Obstacles into Opportunities" and learn to embrace the challenges not avoid them.
Gain strength where others see defeat and Success will follow.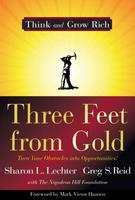 Hugs, Allan